eleven reasons:

11. you find it pertinent to get me out of bed at 4 in the am to walk down to qfc for some wheat bread & sliced cheese, because at 4am, grilled cheese is THAT important. & no matter how delirious i am, i understand, & im walking with you getting harassed by crackheads for melted cheese between bread.

10. if necessary, you can tear a bitch down in under three minutes.

09. i can honestly tell you of things so bone-cripplingly embarrassing i might actually be too modest to share with anyone else in this entire world. dare i mention english champagne? but you dont bat an eyelash. you just go, "oh i know right...?" & then expel some equally confidential facts.

08. you get it. whatever it is, doesnt matter, i dont even have to form it into a thought, its that simple really: you just get it.

07. well, you never finish your words, either.

06. actually, we talk to each other so much weve developed our own code, which i guarantee is frightening to society.

05. also, we have mastered the art of guilty pleasures, & find no shame in it.

04. we want a garden in the p-patch? we want two chairs facing the sun? you want a sofa moved from queen anne (& barry obama cant get here in time)? no worries: "we will just get some boys to do it."

03. with that said, you know how to hustle.

02. every night i make you look out the window, & you already know what im going to say: "why would anyone want to live anywhere else?" & you more than anyone know exactly what i mean when i say this. & every night you answer. "i dont know, babygirl."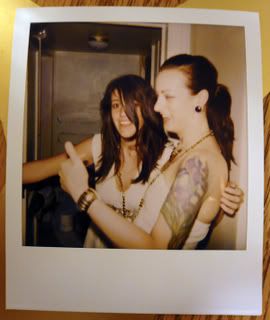 & claro, el numero uno razon:

01. WHISKEY IN MY WHISKEY.